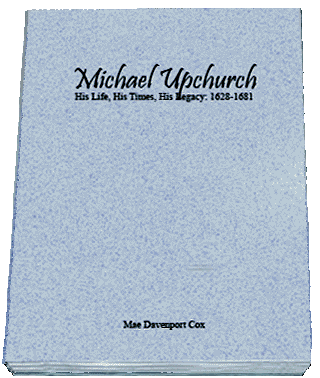 No longer in print

Michael Upchurch
His Life, His Times, His Legacy: 1624-1681

Compiled and Written by Mae D. Cox
Edited by Kevin M. Burton
Second Edition January 2012
Michael Upchurch
1624-1681
Michael is a fascinating ancestor who left an astounding paper trail during his forty-three years in Virginia. This book provides a good glimpse into his life and times during the Colonial period.
• 136 pages, 8-1/2x11
• Facts about Colonial Period
• Crests and Coat-of-Arms
• Maps of where Michael lived

Commentary is given about the various documents, plus the findings of other researchers. In most cases, other's data is true, but there are some cases where previous researchers/authors information differs from the findings and documentation of this book author.
Documents and Records
• A timeline outlining every known event in Michael's life
• Maps from his arrival in America throughout his lifetime
• Michael's four original letters back to England, plus transcriptions
• Complete set of court records about Lawnes Creek Rebellion
• The lease of Roger Delke's land
• Tithe records 1668-1691, originals and transcriptions
• Records of Appointment of Administrators
• Estate records for Michael Upchurch, plus transcriptions
• Estate records for Frances Upchurch, plus transcriptions
• Several other original records and transcriptions.
• Historical info about the Period in which Michael lived
• Maps of Lawnes Creek Parish, Surry County, and many others
• Many other documents including depositions, etc.
• Records and documents in the book have been transcribed